Love or hate Cardi B, you must definitely applaud her for her tenacity and drive. Sometimes, I think she is a Nigerian with the inner ginger that says, "We die hia!"
The 27-year-old have gone from a stripper to an unknown actress to a chart-topping rapper with sold-out best-selling albums and million Instagram followers.
This girl is stamping her feet and making a statement for herself in the entertainment industry.
From being the first solo female artist to win a Grammy for Best Rap Album to becoming the most awarded female rapper in the history of the BET Awards.
The latest additions, the BET Awards Made-You-Look Award (Best Hip-Hop Style) and Best Hip-Hop Video.
But the birthday girl does not only excel at Rap, her fashion icon status seems as unstoppable as her rise as a songwriter.
The Bronx-born and bred "Money" artist has proved she's no one-hit-wonder when it comes to serving stuuning looks both on the red carpet and in her music videos.
While you cannot model some of Cardi B's hot looks to your office because common!
Cardi B's look at some events are totally what you need to look like a star.
This "Chanel-inspired" tweed skirt suit sold out immediately Cardi B wore it. Quite a blast for all your meetings.
 This 2017 Tidal event look is timeless. This simple mint green dress is complemented by the nude shoes to give it a chic look. But of course, the look wouldn't be Cardi B without a touch of wow! and that's exactly what the earrings inspire.
So, a seemingly simple outfit, nude shoes and earrrings that pops.
I call this the Power Colour Blend. Who would think a legion of pink will look this good?
Cardi B looking pretty in pink, even if it's a rare choice from the rapper, we like it. It can also pass for a stunning work outfit. The trick is deciding where to soften and where to highlight. See?
*Swoons…
Cardi B's all-red outfit proves that coordinating pieces in similar shades will turn out gorgeous. This is a bit revealing but you can definitely still pull this off with a boob tube.
Bonus points if you can find accessories to match.
Simple body con dress and this smart white jacket makes a statement.
And the white shoes… Don't you just love it?
Sunday look, new wife look, even confuse people look. Lol
This off-the-shoulder neckline and the slit up the front is a modern take on the classic LBD.
The shoes… Elegante! If there is a word like that.
The slayage on this look is actually out of this world. What a boss lady look!
Matching sets are the perfect way to look effortlessly polished.
Oh yea! If you are going for that boss lady look.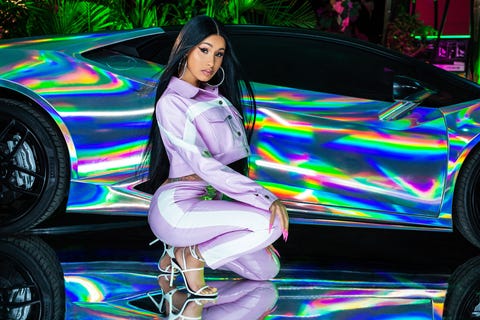 No words!
So what are you waiting for???
Make a statement, infuse some Cardi B into your outfit today and who knows you might be winning your first award at work.
Slay!!!